Say, LSR alum, if you're involved in an LSR legacy project, or if your LSR experience prompted you to enlist in an existing community effort, we'd like to write about it. Just drop a note to Chris Smith at csmith54@sonic.net.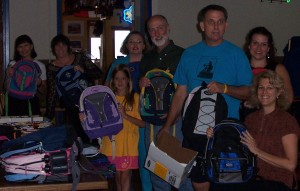 Lois Shelton of Class XVI was eager to tell us all about Caring Strangers, the legacy project that this year conducted its 13th drive to collect backpacks and school supplies for Sonoma County youngsters in need. The project, conceived amid the search by Class XVI graduates for a lasting community contribution, also conducts a coat drive each fall that provides new warm coats for Sonoma County kids. Through the past 13 backpack drives, Lois and her supporters have purchased and distributed 1,785 packs filled with essential school supplies. Caring Strangers is so efficient that each well-provisioned backpack costs only $20. Caring Strangers has provided over 900 winter coats for these kids over the past nine years at an average cost of $25.00 per coat. "We magically cover our expenses every year," Lois said.
Over the years, the effort has contributed school backpacks and supplies to children of people served by Becoming Independent, The Family Connection, Family Support Center, Valley of the Moon Children's Center, The Living Room and the childcare centers operated by the Sonoma County YWCA. The coats are purchased primarily for kids from the homeless shelters. "My vision is that every child who arrives at the shelter will be given a new, warm coat from Caring Strangers. I'm working with the shelter's manager to make this happen".
Among the Class XVI grads who've worked with Lois are Cami Weaver, Jenifer Levini, Dan Roberts, Michelle Glaubiger, Kathy Matonak, David Becker, Bob Goodman, Craig Steele and Mike Lopez.
Lois said she's pleased with what the project has done for kids very much in need of a caring stranger. And she intends to grow it, substantially. She believes the model could be duplicated by Chamber of Commerce-sponsored leadership programs across the nation. "I definitely have a vision for this organization," she said. "One of these days it will be bigger." For Shelton, the inspiration to extend some caring to children who don't receive nearly enough was just one benefit of becoming part of LSR. She said, "It absolutely brought a major change in what I focus on in my life."
If you're interested to be part of the magic and either make a cash donation or join the project, Lois, a new member of the LSRAA board, would love for you to call her at (707) 577-0100. She invites donations that can be mailed to Caring Strangers, c/o Santa Rosa Chamber of Commerce, 1260 N. Dutton Avenue, Santa Rosa CA 95401. You can buy a warm coat for a child by making your check payable to "New Vision SR Foundation" and on the Memo line write "Caring Strangers."